SmartyPits is more than just another natural deodorant brand.
We're committed to helping you #goaluminumfree for life, because our product is built on a story.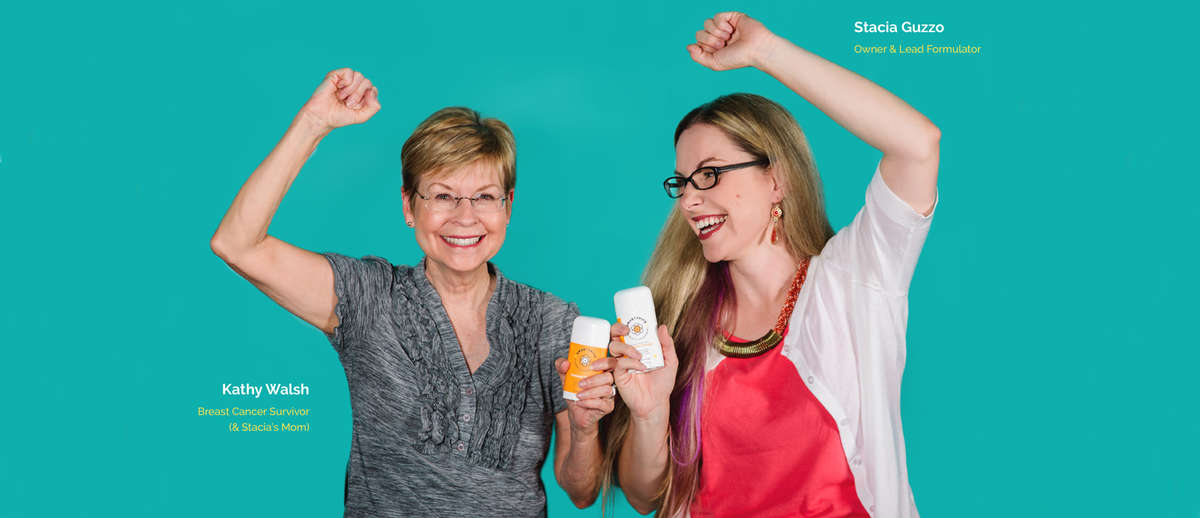 SmartyPits was formulated with a purpose.
When founder Stacia Guzzo's mother discovered she had breast cancer, it was a through a lump directly underneath her armpit. With no family history of breast cancer and the absence of "the breast cancer gene," Stacia began to do some research on her mom's cancer--and that was the first time she learned about studies linking aluminum and breast cancer (as well as Alzheimer's Disease).

As a result of this, Stacia tried to go aluminum-free herself--but couldn't find any product on the market that worked. A dedicated "clinical strength" antiperspirant user, Stacia needed something that controlled odor all day, had a smooth application, and felt convenient to use.

She didn't find anything on the market that hit all those marks...so a few years later after studying skin care formulation, she created one herself.

As part of the mission of SmartyPits, every sale contributes to our giveback program, which donates both money to breast cancer research/survivor support and free deodorant to breast cancer programs all around the country.
CHOOSE FROM SEVERAL DIFFERENT FORMULAS
to meet the needs of your particular skin chemistry.
Our Standard Formula contains baking soda, is infused with prebiotics (food for good bacteria), and is best for our customers who do not have sensitive skin.
Our Sensitive Skin Formula is formulateD without baking soda, substituting the power of magnesium instead. Like our Standard Formula, it is infused with prebiotics, and best for our customers who have sensitive skin or who have experienced irritation from other natural deodorants.
Decide whether a particular scent or formula is right for you--choose from our standard and sensitive skin formulas, as well as our natural and traditional scent collections.